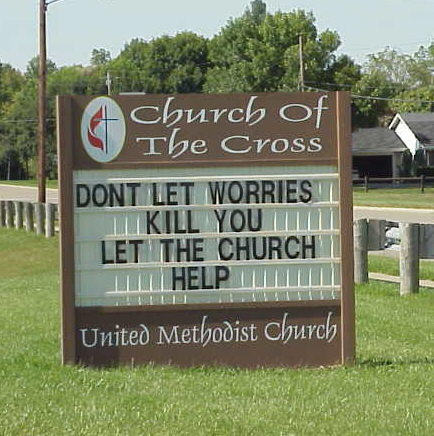 Taneesha and I found these online and we thought you might get a kick out of some of them. We did!


1. The Scouts are saving aluminum cans, bottles and other items to be recycled. Proceeds will be used to cripple children.


2. Ladies Bible Study will be held Thursday morning at 10. All ladies are invited to lunch in the Fellowship Hall after the B.S. is done.


3. The pastor would appreciate it if the ladies of the congregation would lend him their electric girdles for the pancake breakfast next Sabbath.


4. The pastor will preach his farewell message, after which the choir will sing, "Break Forth Into Joy."


5. Remember in prayer the many who are sick of our church and community.


6. Thursday night Potluck Supper. Prayer and medication to follow.


7. The rosebud on the altar this morning is to announce the birth of David, the sin of Rev. and Mrs. Adams.
8. Tuesday at 4 PM there will be an ice cream social. All ladies giving milk will please come early.


9. A bean supper will be held on Tuesday evening in the church hall. Music will follow.


10. Mrs. Johnson will be entering the hospital this week for testes.


11. The Lutheran Men's group will meet at 6 PM. Steak, mashed potatoes, green beans, bread and dessert will be served for a nominal feel.


12. The Associate Minister unveiled the church's new tithing campaign slogan last Sunday: "I Upped My Pledge - Up Yours."


13. Our next song is "Angels We Have Heard Get High."


14. The senior choir invites any member of the congregation who enjoys sinning to join the choir.


15. Don't let worry kill you - let the church help.


16. Wednesday the ladies liturgy will meet. Mrs. Johnson will sing "Put me in my little bed accompanied by the pastor."


17. Thursday at 5:00 pm there will be a meeting of the Little Mothers Club. All ladies wishing to be "Little Mothers" will meet with the Pastor in his study.


18. The sermon this morning: "Jesus Walks on the Water." The sermon tonight: "Searching for Jesus."


19. Youth basketball team is back in action Wednesday at 8 PM in the recreation hall. Come out and watch us kill Christ the King.


20. This evening at 7 P.M. there will be a hymn sing in the park across from the Church. Bring a blanket and come prepared to sin.