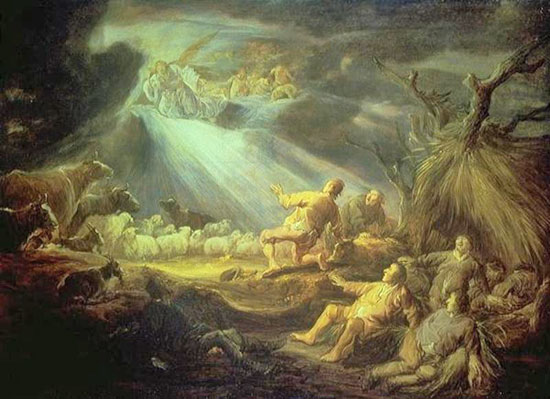 So [the shepherds] hurried off and found Mary and Joseph, and the baby [Jesus], who was lying in the manger. When they had seen him,

they spread the word

concerning what had been told them about this child, and

all

who heard it were amazed

at what the shepherds said to them. But Mary treasured up all these things and pondered them in her heart. The shepherds returned,

glorifying and praising God for all the things they had heard and seen

, which were just as they had been told.
— Luke 2:16-20 (NIV) (emphasis mine)
The other night I was sharing this passage at the
FBC Youth
's Crazy Ugly Sweater Christmas Party. I have read, or heard, this passage what seems to be a hundred times or more. Yet, as it often is when we come to the
living
and
active
Word, something new stuck out to me. I have heard Mary's response pointed out many times - how she cherished , or pondered, these things in her heart...and the like. But, what stood out to me this time was the
response
of the shepherds. I believe their response is the one that should be the norm for those who encounter the Word of God and the Living God, Himself - Jesus!
The story shows the shepherds in the fields and the angels appearing with the glory and spender of heaven (I am seeing Revelation 4 here, or the passages from Isaiah or Ezekiel). The angels comfort them and tell them the
good news
of what has taken place that night. After encountering the
word
about Jesus they went and experienced the living Jesus for themselves. After, then, experiencing Jesus, God, the Savior of the world, the Messiah, they went away...
glorifying
God... and
proclaiming
what they had seen and heard to all the came into contact with.
This is the way it should be for all of us who have come into contact with Jesus, the living God! We have all
heard
of him... but then, when you meet him and experience him, for real, you cannot help but
glorify God
and
tell everyone
of the
GOOD NEWS
you have seen and heard!
I know what I desire my response to be. Often times it is not what it ought to be. This is not because Jesus isn't there and deserving of my awe and worship. It is, all too often, because I am simply not paying attention and truly gazing upon the glory and splendor of my Savior. I do not want to go through the motions of faith. I want to encounter and to know Jesus! I pray that this Christmas you will not be satisfied with merely
hearing about Jesus
. I pray that you will truly
encounter and know Jesus!